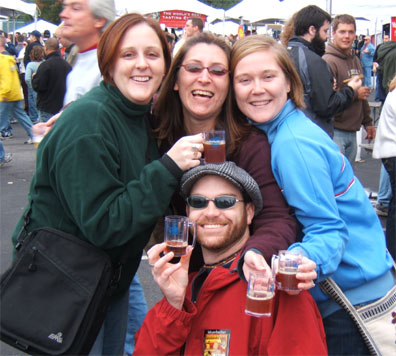 The 9th Annual Kennett Brewfest was Saturday October 7th. This year it was held at a new location, which I think I actually preferred better. There seemed to be more room to move around in, but there also seemed to be more people to wait in line with. All-in-all I would say the brewfest was a success. Biggest complaint – lines, beer lines and port-a-potty lines, but I suppose there is only so much you can do about it. Favorite beers: hands down favorite beer for me was Stone's 10th Anniversary ale. This is a super-dooper hopped IPA, as described by the guy pouring it, "Who likes hops? This is like drinking a bag of weed!" All righty then . . . Other favorites included, Mojo IPA from Boulder Beer, Bourbon Aged Barleywine from Steart's, and Old Foghorn from Anchor. Lots of beer, not enough time.
After the brewfest we went to the Half Moon Restaurant as we have now for the past 5 years. Every year they are very busy and you expect a certain amount of waiting, this year they took it too far. I don't believe we'll ever be going back to this restaurant after the brewfest. It's a shame for them, for we had a party of 10, and now that's 10 people that will be spreading bad news about them, oh well – tuff-titties. Anyway, we arrived around 6:15 and ordered. We didn't receive appatizers for an hour and half with no inclination that our food was coing anytime soon. We asked for our check of what had already arrived and asked to speak with the manager. It took 15 minutes for us to get the check and the managar (owner!) couldn't have given two shits that we were unhappy. So after being there for 2 hours, we all left, not fed and pissed off – it was a lovely time. We got home and ordered pizza which was at the door in less than 20 minutes. Guess what – that pizza guy got a good tip =).
So, brewfest was good, Half Moon was horrible. I'm choosing to look on the bright side of this one and take it as a lesson learned. Until next year . . .