Last night my buddy Todd and I went up to Philly to check out my other friends band play at a small coffee house called Kaffa Crossing. Both Erik Mitchell and Robert Desjardin that I know are in the band. The environment there is small but not really interment, but still comfortable. It seems like a nice place to grab some coffee, but maybe a little distracting to play a show.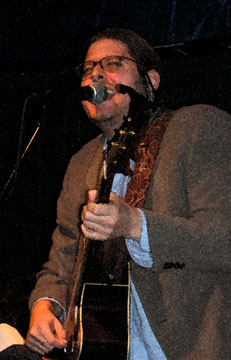 We were told there was going to be another guy (Matt Roach) there opening for them so we weren't too concerned with being on time. But as it turns out the guy had issues with the fact that he was opening for Erik and company so they agreed he would play in between sets instead. Well, because of that decision we arrived late – that sucks! Regardless, the people there seemed to really be into what they were playing. They played a lot of new stuff to me, which is both good and bad. The reason I say that is that it's good in the sense I get to hear the new stuff they are working on, but it's bad for me because it is harder for me to get into what they are playing since I do not recognize it. Here's the set list from last night:
Back On The Train*
The House Of Osiris
Bakerloo
Carnival Parade
Easy To Love You
Since You've Been Gone
Dognation
Baba Dochia
The Humpty Dance
In The Bayou*
Whitechapel 1888
The Bride Of The Black Sea
Pepper's Ghost
Dick In A Box Tease*
Out In The Rain
Wharf Rat
Martyr
Piece Of The Pie
all songs with Jon Mernyk on lead guitar, Corey Bonser on bass, Robert Desjardin on drums, and Erik Mitchell on acoustic guitar and vocals.
*first time played
I did have a good time, but I think the biggest disappointment for me was the lack of something else going on before or afterward. I was ready to have a Saturday night, but instead it just finished up as another night. Until next time I suppose.