Don't know if I'll keep up with this or not, but this is the first time it is happening. Writer Stan Hieronymus suggested that all beer "bloggers" write about the same thing on the same day once a month, similar to what other groups have done. So, this is the first attempt, for March, The Session, Stouts.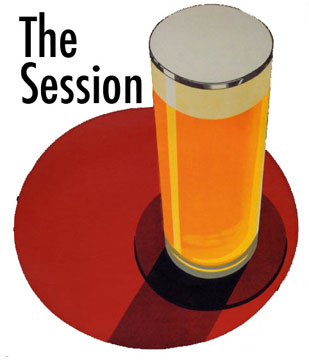 This evening Karen and I went to Stoney's British Pub on Concord Pike to enjoy some English fair, fish and chips and good English beer. While I was there I remembered about "The Session" and thought, 'why not?' I asked the waitress what was her favorite stout besides Guinness. She suggested St. Peter's Cream Stout, sounds good to me.
The St. Peter's CS comes in a cool 500ml bottle, sort of in the shape of an old school flask. The back label reads: 'Fuggles' and 'Challenger' hops plus a blend of 4 local barley malts create an aromatic, robust, dark chocolate cream stout with a satisfying bittersweet aftertaste.
Here's my impression; the beer pours a light black color from the bottle with little to no head. Some foam lingers along the edges of the glass, but it is dull. When held to a light brown iced-tea highlights shine through. The aroma reminds me of sweet chocolate with a light malt back bone supporting it. There is more carbonation then expecting, taking away from the smooth factor I was ready for. The beer did still feel mostly smooth along the palate, just not silky, with a little bit of tang in the aftertaste. First impressions on flavor: roasty, creamy, a touch of burntness, some ripe berry, candied chocolate pudding.
I was just finishing up the beer when the food was arriving, it would have paired excellently with the home-made tarter sauce that accompanied the fish. Overall the Cream Stout was good, but not bragging good, and definetly not $10 good – which is what I found out when the bill came that Stoney's charged, ouch! It would inspire me to try some of St. Peter's other offerings though.
Should have tried and reviewed the Iron Hill Dry Irish Stout that went on tap today instead – oh well, more beer I say!