Imagine that! This time it is in preparation for the Oatmeal Stout Experiment. I'm hoping to get a six-pack from each gallon with a little left over in each container for some blending. Unfortunetly I am begging for oxidation and asking for infection, but with any luck and some good practices, I'll come out on top.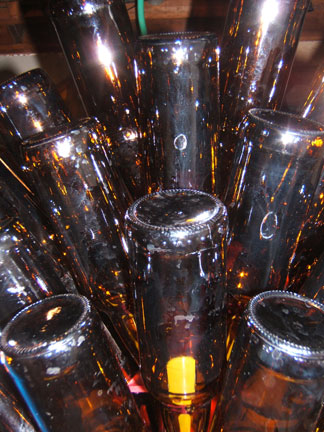 Theoretically my brewness will be as follows for the next few days:


Thurs. March 8th – Prepare bottles for bottling Oatmeal Stout Experiment (OSE). New beers tried: Stone Old Gaurdian Early '06 Release & Flying Fish Espresso Porter 10th Anniversary Brew.

Fri. March 9th – Go to Iron Hill Wilmington Mug Club Renewal Party, try IHW specialty beers. Prepare starter for English Pale Ale (EPA) to be brewed Sunday made with slurry from OSE, WLP002.

Sat. – Bottle OSE, possibly go to Iron Hill Newark Mug Club Renewal Party – Possibly go to HDYB to pick up Gypsum for EPA. Drink growler of Blonde Barleywine from Iron Hill West Chester.

Sun. – Brew English Pale Ale and plan out beers for the 2nd Annual Delaware Digital Scavenger Hunt – 2 maybe 3!