On Saturday, I finally bottled the Oatmeal Stout Experiment. I typically don't look forward to bottling days, and I was especially not looking forward to this one. Bottling is my least favorite aspect of this hobby, but it is the cheapest and most convienient for distribution.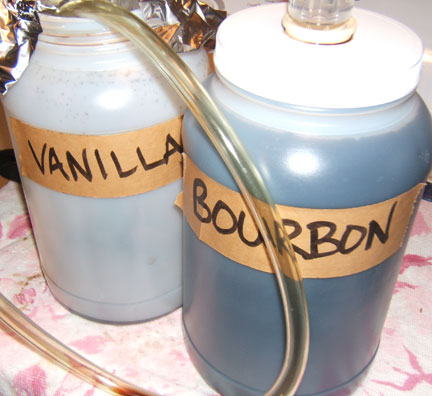 There were two main issues that I thought of that would make this worse than a typical bottling day. 1 – Typically I use 4oz of corn sugar for priming a 5 gallon batch, this time I had to figure out how to split 4oz five ways for 5 one gallon batches. And 2 – I would unfortunetly have to do a lot more cleaning and sanatizing, like instead of once for the whole batch, more like 5 times inbetween each mini-batch.
The first issue I resolved easily with common sense as soon as I thought about it. Normally I take the 4oz of corn sugar and dissolve it in 2 cups of water and bring it to a boil creating a simple syrup. So, instead of worring about the amount of corn sugar I could make it easier and worry about the amount of simple syrup. So instead of 2 cups, I used 2 and half cups of water, so when it came time to bottle each 1 gallon fermenters worth of beer received a half cup of simple syrup priming solution, simple problem resolved.
The second issue wasn't horrible, just extra work. The good thing was after I thought about it I figured I could actually skip cleaning and sanitizing inbetween some of the batches. For example, I bottled the "plain" Oatmeal Stout first. No need to rinse after that one because that is the beer they are all based off of. So it went like this OS > Cocoa Pebble OS > rinse/sanitize > Vanilla OS > Bourbon OS > rinse/sanitize > Coffee OS. The yield wasn't too bad either: 9 OS, 6 CPOS, 9 VOS, 10 BOS, & 10 COS.
Originally I had mentioned trying to get about a 6 pack from each fermenter and then reserving the rest to try and make some blends, for example a Vanilla Bourbon Oatmeal Stout or a Cocoa Coffee Oatmeal Stout (breakfast stout). I decided not to do that for a couple reasons, less likelihood of contamination and oxidation plus less mess and rinsing/sanatizing. But, if two or more various bottles are opened at the same time, some on-the-fly blending could definetly happen. Oh, by the way I tasted all of them, and here is my initial opinion from best to worst: BOS, VOS, OS, COS, CPOS > the Cocoa Pebble one may be nasty, we'll have to wait and see, I feel bad for the judges for that pre-sweetened cereal category!