Today, I just finished the third issue of Beer Advocate Magazine. I must say, I think it is a really good magazine for the beer lover, not just the homebrewer or industry professional, which are the two typical targets. Only real downside is they use 4-6 pages on beer reviews. Maybe some people like that, but for me, keep it on your website.
The first issue, the "Inaugural Issue", came out in January and was only sent to those who signed up as a "life member". What the whole life member thing was was basically you were buying into this magazine without any ever being published at $20 per year. As a life member this price will never go up, always $20 a year. It is already $30 a year for others, but they throw in things like T-shirts and stuff, for now. It also came with a cool calendar which was photographed at Hair of the Dog Brewery and features beer related images, information, events and holidays – nice. The other thing I really like about the magazine is they decided to use a higher quality paper and a matte finish, really smooth and unique layout.
Each issue seems to follow a format, which is good, it helps you prepare for what's coming or anticipate a particular section if that is one you happen to like. Some of the format appears to be this: Beer Smack (the top dogs of the web site and magazine talk shit), BYOB (a one page homebrew section), Style Profile (where they really break down one still with history notes), 9 Steps to Beerdom (where they feature a brewer from an established brewery and how you can be more like them in 9 easy steps from the brewers mouth (my favorite section so far)), Ask the Beer Geek (get your questions answered, not always correctly and not always politely (my least favorite section so far)), 3 or 4 feature articles all about 2 pages long, Beer Reviews (by Todd and Jason – yawn, boring), Destination (where they go into some depth about beer for a particular area), a food beer pairing type of artiicle (this could get better or worse), and Last Call (a one page sign-off about a popular hot topic). Issue one did a pretty good job, enough so to anticipate the next.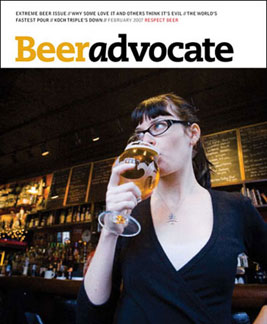 The second issue, the "Extreme Beer" issue, was the first issue that everyone received which is part of the reason I think they chose it as the extreme beer issue. The majority of the subscribers I'm sure are Beer Advocate members, and in my opinion the majority of Beer Advocate members are junkies for the hottest-rarest-one-off-hoppiest-boozy-beers around. Don't get me wrong, I love those beers too, but I also enjoy my stand-bys which are available at most local retailers or from my homebrew cellar. Some of the stuff this issue covered was; An ABC's of how to get started in homebrewing (according to the auther his homebrew pieces will get better, he just needed to start with a base somewhere), 9 Steps to Larry Bell, an interesting "Anti-Extreme Beer" article by local writer Lew Bryson (he is heavily advocating the Session Beer as of late (I bet the session beer issue isn't far around the corner)), and Last Call with Jim Koch of the Boston Beer Company talking about the biggest of the extreme beers – Utopias! (Which I have yet to try.)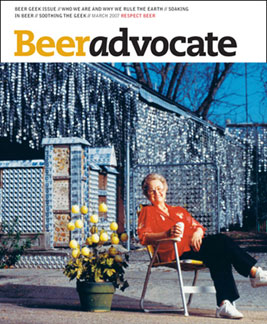 The third issue, the "Beer Geek" issue, was my least favorite so far. Still pretty good, but didn't feel as solid as the other two. A lot of people have been getting all pissy about the term beer geek recently, my guess is the "too cool" people who would never want them selves associated with the word 'geek' ever. They are pushing for 'Beer Connisuer" and "Beer Aficianado" which both just sound like "Beer Snob" to me – I'll take geek and embrace it. Anyway, some of the articles from this issue were; the first homebrew recipe (a dry stout) for the beginner, 9 steps to Nick Floyd, an article called 'The Geek Shall Inherit the Earth' written about maybe 10 or so 'hard-core geeks' that stand out from the rest of us, maybe a paragraph or 4 on each person, a nice article on beer marinades (and these were made with better beer like bocks and triples), and Last Call with Larry Horwitz from Iron Hill North Wales basically telling the beer geeks to relax a little. The irony of Larry being the one who wrote the article is that he is not a Beer Advocate fan, or so I've heard, so I thought it was funny that when offered to join the crew he did, whatever, I would have too.
So that's what I have for now, until the next issue, the "Belgian Beer" issue (?), just a guess . . .