The Beer In Review edition, one year of BeerAdvocate Magazine.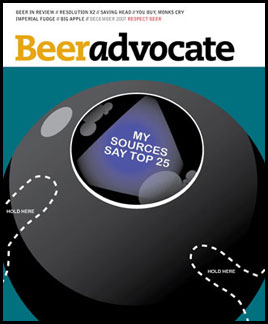 Per usual the BA Mag was a good read. This time they had a bunch of top 25 beer things listed inside along with their typical article format. The 9 Steps to Beerdom article was on Dan Weirback of Weyerbacher Brewing Company. Weyerbacher is one of my favorite local beer companies, I think some of their barrel aged stuff and their Double Simcoe IPA are just excellent beers. Robert and I drove up there one time (about two hours) just to take the tour. The tour was kind of weak in comparisons to some others I've been on, but the tasting afterward was excellent. Basically they had like 10 beers on tap and were willing to open anything they had in bottles that they didn't have on tap. I think we tried like 15 beers that day, very cool.
In their Advocate This article the BA Bros. talk about Westvleteren beers, the monks, and the monastery. Basically they are saying us beer enthusiasts should respect the monk's wishes and stop buying, selling, and re-selling there beers. Because of us we have created the hype and lore that surrounds this beer. They suggest a few other beers that are equally good and not an issue to get, and if you really want to drink it then to go to Belgium and drink it the appropriate way. For me, I basically agree. We beer geeks act like idiots sometimes and things get out of control with hype, prices, and availability (Westvleteren, Dark Lord, Darkness). A good beer is a good beer, but hype isn't always worth it. I have never had a Westvleteren and I'm OK with that, but I know I will have one one day in Belgium and I'm even more OK with that.
I'm going through the different top 25 lists in the magazine and immediately I'm struck with a "what is this?" kind of moment. According to the magazine, the number one beer on the planet is a beer named Black Albert from De Struise Brouwers in Belgium. OK, there are only two beers on the top 25 that I have never heard of and one of them is the number one choice? Beats me. Then if you look at the BA website at the top 100 beers on the planet Black Albert is currently number 18 and Westvleteren 12 is number one. Very unusual and kind of odd if you ask me, I would have assumed the magazine and the website should have corresponded. Other than that initial bit of confusion, they had some nice other top 25's including Top 25 American Brewers, American Beer Bars, and the Alstrom Bros' Top 25 Beers (no Black Albert here either, odd indeed).
Then there was the ever present Reviews section. I'm still not a big fan of reading the reviews all the way, quite boring to me, but I have learned that if I read the first and last paragraph of each review it actually isn't too bad, those two paragraphs are more entertaining I suppose. The Cuisine a La Biere article this time was a good one, desserts for the holidays. One of the recipes was for Beeramisu – nice! Tiramisu is one of my favorite desserts, and beer is one of my favorite drinks, so you put these two together (they suggest a double chocolate, espresso, or imperial stout) and you could have magic on your hands.