So today is St. Patrick's Day and I decided to let my Irish hang out a little, can you see it?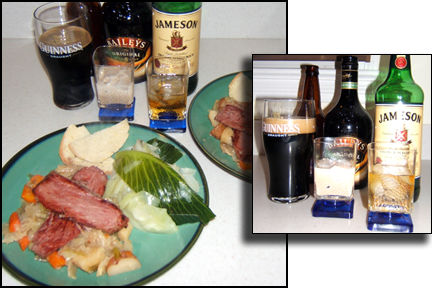 I went traditional with dinner with corned beef, boiled cabbage, mixed root vegetable medley (potatoes, carrots, garlic, turnips, parsnips), and soda bread. Karen actually made the corned beef and root vegetable medley on Sunday, I made the cabbage, and Sweeney's bakery made the bread. For libations we enjoyed Irish whiskey from Jameson, Irish Cream from Bailey, and a stout from Fool Circle that pretended to be Irish today dressed-up in a Guinness glass. All was quite delicious.
So today was supposed to be the "official" release date of the new Honey Oatmeal Stout (HOS) that my brother and I brewed together. With the timing of it being ready just in time for St. Paddy's we figured what better date then on the day. Well, we each got a case and I finished my last one tonight, I guess I wasn't very good at waiting. At least I saved one for tonight. In all honesty, my friend had us over on Saturday for Irish supper and we drank over half of them that night, so at least it was in the right thread. Anyway, I thought the HOS we brewed turned out pretty good. It was about 6.5% alcohol, a little sweet, and a little roasty. The carbonation came up on it nicely, the honey was present in the aroma and apparently in the taste, though it could have just finished a little high. The roast, toast, and chocolate biscuits were all held back but available to add flavor. There could have possibly been more oatmeal to make it even creamier, though it was creamy regardless. It reminded me slightly of Garrett's Black Honey Ale, and you all know I love me some black honeys. I'd say this beer was pretty good, but I bet we could brew it better.