So last night (09.17.08) Karen and I were invited to sample Iron Hill's new seasonal themed dinner, their Oktoberfest dinner.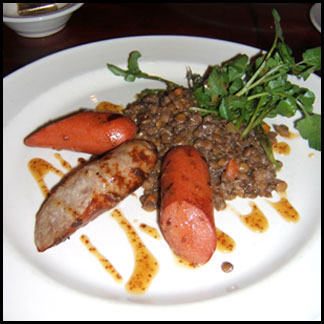 All of the Iron Hill locations do a rotating two course seasonal dinner. During the summer they had a lobster clam bake and now for the fall it's there interpretation of an Oktoberfest meal. I believe the normal routine is for it to be two courses, an appetizer and a main entrée, for typically $20 with suggested seasonal beer pairings for an additional $2.50 a piece. I think the beer used to be included and the price used to be slightly higher, but I'm not positive.
So for the Oktoberfest dinner the first course was a German "salad" and looked delicious. It was a large helping of lentils that were seasoned very nicely, some sort of bitter greens (thus the salad), and two different sausages all lightly drizzled in a sweetened course mustard sauce. The lentils, sausage, and mustard all went together well, I especially enjoyed the lighter colored sausage, I meant to ask what style it was but it slipped my mind. The greens for me were too a little too bitter, but Karen seemed to enjoy them a lot, yet IÂ discovered that if eaten with enough lentils they went down just fine. I believe the suggested pairing with this course was Iron Hill's newest house beer the Vienna Lager. Good beer, I've had it several times, but they had their Pig Iron Porter aged with vanilla beans on cask condition, and well, I enjoyed that very much.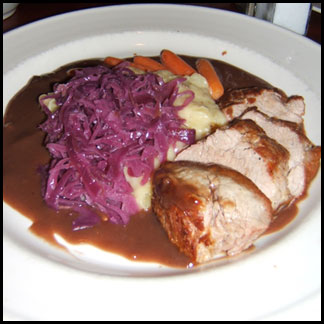 The second course arrived shortly after the first course and looked a little hurried. It was a large serving of home-made mashed potatoes, a bunch of purple cabbage, and a moist thick-cut piece of pork tenderloin all served with an amazing ginger-snap gravy. I'm sure no chef wants to be told the high-light of the dish was the gravy, but that gravy was ridiculous, I couldn't get enough of it. The purple of the cabbage was a nice visual accent to the dish which was otherwise shades of brown, yellow, and white, but otherwise the cabbage (or maybe a light kraut) was just OK. The mashed potatoes had potential, the flavor was quite nice and buttery, but the consistency reminded me of when you mix potatoes too long and the starches get gummy. Then there was the pork tenderloin, which was the highlight of the dish for me. It was approximately four thick slices of pork tenderloin that appeared to be seasoned and pan seared, probably finished in the oven, which retained a lot of moisture. Plus the combination of the pork and the gravy was just right. I believe the suggested pairing with this course was the seasonal Oktoberfest beer. Karen got an Oktoberfest and it was quite malty and clean, I couldn't resist and had another Cask Vanilla Porter.
For dessert we split a single serving of vanilla ice cream. It was from Hy-Point farms, and we found out the rest of their ice cream is from Woodside Creamery, my local favorite. Toward the end of the ice cream and the end of my beer I decided to combine the two and enjoy a delicious Double Vanilla Porter Ice Cream Float – yum! Overall it was another great night at Iron Hill Brewery.