On Monday (10.13.08) I made two 5 gallon batches of hard cider, I am very excited about these!
So I try to make a batch of hard cider every year, which translates to twice in the last three years, oh well. Anyway, on Saturday Karen and I went out to Linvilla Orchards and picked up the cider, ten 1 gallon jugs, about $50 worth of cider. I figured that wasn't too bad, though I would have liked it if they had a larger quantity option. I had previously contacted them about getting a custom blend of apples, or getting the cider right off the press, or any other suggestions that could make the cider fresher / more unique, but they said ever since the barn burnt down (which had their press in it) they ship their apples out to get pressed and the cider they have is the only cider available.
The original plan was for me to take the cider home, let it sit out at room temperature for about 24 hours (until it came up to temperature) then make the cider. Well, things change. Instead Robert and I contacted each other and punted. We had talked about camping on Saturday down in Sussex County and then running all of the Sussex County Trail Challenge, about 13 miles over five trails. This idea had kind of slipped through the cracks until about mid-day Saturday when suddenly we both were like "do you want to?" So basically we scrambled to throw together our camping gear, get food, and try to find a camp site with availability. The first two campgrounds we called were already booked, but the third was the charm, and we stayed at DE Seashore State Park on the Indian River Inlet. We drank some good beers Saturday night, Samuel Smith's Taddy Porter and Oatmeal Stout, and a Hoppin' Frog B.O.R.I.S. the Crusher Russian Imperial Stout.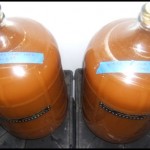 Sunday came bright and early and we almost didn't get to have coffee, ran out of fuel for the camp stove right before it came to a boil and there was a no open fires rule at this campground. The runs went OK, our favorite run we got turned around on since they had changed the trail, and the two we were dreading the most went fine, go figure. Since we were already down in the area, we took advantage of the fact that we could go to Dogfish Head. So we had a couple reward beers and a sandwich, then I saw something I hadn't seen before. Floating behind the bar were a couple unidentified unadvertised bottles of beer. I inquired and it turned out to be two special beers, both $20, both had to be drunk in house – drat. One was a beer Sam had brewed with a Danish brewer called Odense Old Style Ale brewed at Nørrebro Bryghus in Copenhagen, the other was a beer Sam had brewed with a group of US brewers called Isabelle Proximus brewed at Port Brewing. We had the Isabelle, an American Wild Ale, and it was ridiculous, I am so glad we bought a bottle, very difficult beer to find. If you are interested in obscure beers / beer adventures I would highly recommend the links to these two beers, cool stories.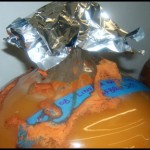 So by the time I got home on Sunday I was completely wiped and the cider still had not been made. I checked all the bottles and the cider did not seem to begin spontaneously fermenting so I figured I had time. I honestly didn't get to the cider until Monday night at about 11PM, so they had been sitting out at room temperature something like 58 hours! I was kind of nervous that I had just blown the cider experiment and wasted a bunch of money, but as I was taking original gravity readings out of the jugs I tasted most of the cider and smelt all of it and it seemed fine, I was relived. I make a very simple cider recipe: five gallons fresh apple cider, 1 Tbsp yeast nutrient, and 1 pack/vial of yeast – that's it. This time I used S-33 a Belgian-style yeast in one batch and US-05 an American-style yeast in the other. In the past I have had some carbonation issues, but theoretically it should be a non-issue this time, either kegging it or kegging it and force carbonating the bottles. The plan this time is to keep one cider "traditional" and to back-sweeten the other cider to make it more like a cider-pop American style, like Woodchuck or something. So far the fermentation has been very vigorous, to the point that I have been running them as "open fermentations". Well, not full-on, but I removed the air-locks from the carboys and just covered the openings loosely with aluminum foil. Why? Well, Tuesday morning I cam down to check on the ciders and there was "apple sauce" inside the air locks, so I figured I'd try to give them a little extra breathing room. I'm really not to worried about it.