Saturday, December 13th, 2008
So yesterday, 12.12.08, was the annual Sly Fox IPA Project day at their Phoenixville, PA brewpub location in celebration of their 13th anniversary.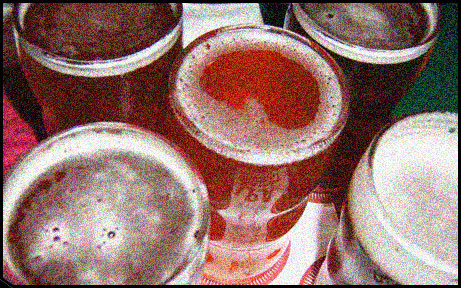 You can click here to see the rest of the pictures form the day.
So this was our third year going to this event, and it was out of control. This year Robert, Mitchell, and myself went up with Sharon meeting us up their later. Mike has gone the last two years with us also, but was unable to attend this year since he will be in NYC. Sly Fox continued to sell the IPAs in smaller flights again this year, which I thought was a smart move. They served them as three flights with five beers per flight, five ounces per beer, at eight dollars a flight. So, basically you pay twenty-four dollars for seventy-five ounces of beer, which is roughly a six-pack worth of beer, that's one expensive six-pack! My favorites were the two cask conditioned beers, they were the 2008 and 2007 Odyssey if I remember correctly, and the Mt. Rainer IPA. The Mt. Rainer IPA took a little to grow on me, it tasted like berries which is weird hop profile to have, but I really liked it.
Next year Sly Fox has said they are no longer doing the IPA Project, but I changing the concept slightly to the Hop Project. This appears to be sort-of the same idea, but they will be brewing Pale Ales instead of IPAs. The good news about this is that pale ales will help showcase the hop profile better because there is less malt to 'cover' the hop profile, plus they use less ingredients, so theoretically they can brew more beer at the same cost. Also, this may bring down the cost of the flights a little, I hope so, but probably not. The bad news is that IPAs because of there higher alcohol and hopping mature better, so drinking a year old IPA is conceivable that it will still be fine, versus a year old pale ale is not typically such a good idea. We'll see.