So today I brewed for the first time in about a month, and the first time for 2009!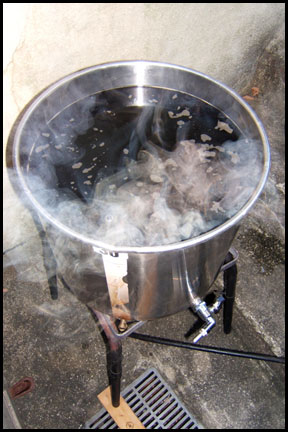 Normally I am all 'it was an uneventful brew day, blah, blah, blah'. Well, today was different, it wasn't quite eventful, but it wasn't smooth either. Let me try to go through some of my simple mishaps that helped turn the day into a "ooph".
I do not know what I was thinking when I made this recipe a few months ago before I placed an order for new ingredients, but I turned up short in more than one way. First, while I was measuring my grains I was a 1/2 pound short on roasted barley. I'm sure the beer will be fine, but I was actually planning on making two stouts – um…hello! Next when I went to go grind the grains I was dumping them out of a bag into the mill hopper and the bag split dumping about a 1/4 pound or so of grain everywhere, awesome! After I was done messing with the grains and cleaning up I realized I had overheated my mash-in water by about 20 degrees, great. Then, after I mashed-in I realized that I used the wrong scenario to calculate the water – I used 1.25 qts in stead of 1.0 – oh well, it'll be fine, I've got the room. Then when it was time to add the first addition of hops, I didn't have enough or the right kind of hops – what was I thinking…? So I made a substitute on the fly, hopefully not messing up any other pre-planned recipes – Chinook for Horizon for bittering and Cascade for Centennial for late addition. Then when I was trying to be a good-little-brewer and clean-up as I go I blew a water line hooked up to the faucet and almost shit my pants! Seriously, I didn't know what happened and it was loud, hot, and wet all of a sudden. I was actually cleaning out a keg and thought somehow the keg had blown, dunno, but that's where my mind went. And finally, I ran out of propane, and my back-up was empty. Fortunately it was with only 2 minutes left in the boil, but with maybe 15 minutes left I knew we were heading in that direction, with my rapid rolling boil turning into a just barely boil before the gas blew.
It was kind of a crappy brew day for little shit happening, but overall I am REALLY glad I brewed today, it is one of the few things I wanted to do over my break from work, and it almost didn't happen. I also hit my OG and my volume and finished up in about 5 and a half hours, so that's the all-good out look for the long run. I think I may bourbonize this beer in the secondary, but I haven't committed yet.
Oh, BTW, to any homebrewers who read this, I hit a paranoia moment today while cleaning glass carboys. I typically do a hot water rinse, followed by a PBW hot water rest of at least 24 hours, followed by two hot water rinses, followed by either Iodophor or Star San as a sanitizer – but every once in a while I don't think it's enough. So my question is, what do you all do? Do you have some sort of secret chemical you swear by? Lemme know, I'd appreciate it.