So this afternoon I got to give a little bit of love to the kegerator; bottled a case of beer, and fed it a new keg.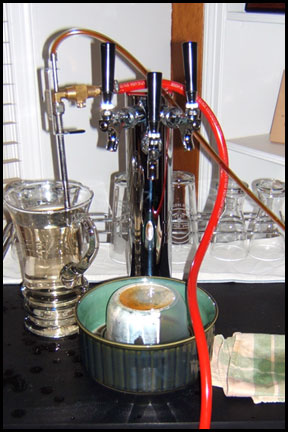 Basically the objective was to kick the Gnarleywine keg as soon as I could. Not that it was a bad beer, I was just ready to move on from it, and I really needed some hops in my life. So I set up all the bottling equipment and cleaned and sanitized a case of bottles. I first pulled of six Cream Ales into bottles, then six Chocolate Porters, and finally eleven Gnarleywines, it kicked on the twelfth bottle – which I drank. This way I now have a couple bottles of each brew to tuck back fro the annual Fool Circle beer tasting, plus possibly an early competition like the War of the Worts in February.
After I was through bottling I pulled the Gnarleywine keg, which was a half keg, 2.5 gallons. Now I had to try and fit three full sized kegs into the kegerator when I knew they weren't going to fit. I tried anyway though. I brought up the keg of Keg-Hopped Imperial Amber Ale that Garrett and I brewed a while back, October I believe. So I tried to shove all three kegs in, no bueno. The compressor in the back of the fridge hangs down just low enough that the handle on the third keg just won't fit, by less than an inch. So I took a note from Frey-Guy and thought, WWGD? I went out to the garage and grabbed the hack-saw and got rid of the handle on the keg. I gave it another go, and I was able to squeeze in all three kegs. The half keg actually would sit back even further giving the illusion that there was more room than I had anticipated. Overall, success.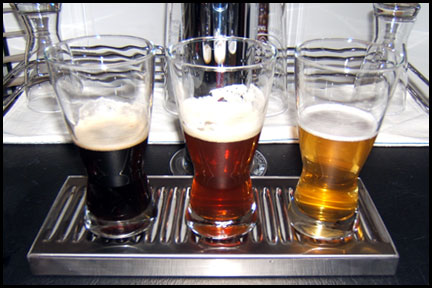 So, what's on tap right now? Well we have my Chocolate Porter, the Keg-Hopped Imperial Amber Ale, and a Cream Ale. The Chocolate Porter was brewed with 8oz. of Cocao Nibs and turned out very lushy chocolaty, like baker's chocolate, dark brownies, and coffee mixed together – I dig it a lot. The Cream Ale has been a crowd favorite, dry yet sweet, smooth yet bubbly – it's a very easy drinker in my opinion. And the KHIAA I have not "really" tried yet, it still needs to cool down in the kegerator and probably settle a bit. I'll keep you posted on what I think.