Monday, February 2nd, 2009
So yesterday was the 2009 Lewes Polar Bear Plunge to support Special Olympics Delaware. Once again Robert and I went down and had a blast.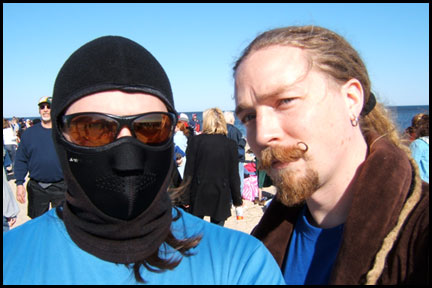 Normally we roll down the morning of the event and hang out with all the good people all morning. This year, we went down the night before and crashed at my Dad's beach house. By going down earlier it totally changed the pacing of the day, much more laid back, but I did sort of miss the early morning anticipation – oh well. Another difference this year for us was that Dogfish Head's brewpub in Rehoboth was closed for renovations, which is normal post-Plunge place to get warmed-up, but we made due.
So pre-Plunge we spent most of our time like normal, walking around sipping on coffee and Jager staying warm and looking at all the freaks and fun going on around us. We also ran into Captain Carson and his sister and cousin who were down for the Plunge. This was Dave's sister's 11th year doing the Plunge, good for her. We hung with them briefly and made plans to catch up post-Plunge. Afterward, we all went to Grand Slam, a Grotto's Sports Bar, and shared some food and beers and hit the pike to come home.
It's funny how much time, energy, money – whatever goes into the Plunge, and in all actuality I bet we are in the water for less than 10 seconds. I do really enjoy going in the ocean in winter for some reason, I think next time I may attempt to see how long I can reasonably stay in – a couple minutes maybe?
Also, sorry about the lazy weekly posting action, maybe if I was more interesting I'd have more to say – enjoy!