So another day another adventure, more from Texas!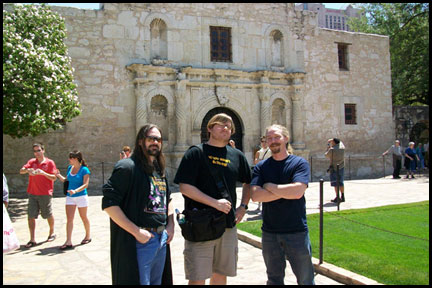 Click here for all the pictures from our Austin, TX trip!
Friday: So Friday morning found us all a little groggy from traveling, but at the same time full of energy and ready to take advantage of our trip. Before we left Erik had mentioned possibly going to San Antonio to go see the Alamo. Originally Robert and I were totally not into it, but after some changes, things changed. For one, we decided to rent a car while in TX which totally broadened the possibilities of what were were able to do. For example, San Antonio was approximately an hour and a half from Austin, wouldn't have been able to do that. After realizing we didn't know what else we were going to do with our day and deciding to make our focus San Antonio the city and not just the Alamo, we were on our way.
Like I said, San Antonio was approximately an hour and a half away, we made it down in about an hour and ten minutes – whoa! Our car was a little Toyota Yaris that I basically was driving 80MPH everywhere, but considering the posted speed limits were 70+ it wasn't that far of a stretch. When we got to San Antonio it felt like everything was the Alamo something or Davey Crockett something and kind of felt cheesy, I didn't think I was going to like this city. After we parked we figured, well, let's go find the Alamo and start our adventure. I assumed the Alamo was going to be a big tourist attraction (which it was) that we were going to have to pay money to tour, but it was actually free, which made it nicer to me. There wasn't much to see, but there was a decent amount of well kept landscaping which made it enjoyable to tour. Of course, with us knuckleheads, we couldn't stop referring to Ozzy being arrested for peeing on the Alamo and Pee Wee's Big Adventure and the "where's the basement" references. So eventually Erik had to ask the clerk at the customer service booth if the Alamo had a basement. We tried to tape it, but it didn't work out, but the way the guy reacted we all thought he was about to tell Erik off for a second, but instead was totally like "Have you ever seen Pee Wee Herman's movie? You can look it up on YouTube." It was too funny.
After the Alamo we kind of be-bopped our way up and down the side streets and window shopped a little bit and briefly checked out the River Walk on our way to Tower of the Americas, which was in view from almost everywhere you went. This was a big-ass (750 feet tall) tower with a 360 degree observation deck at the top and glass elevators that ran up the outside of the tower. It looked really cool, though Erik and I were a little shady about going up, but after we got up it was cool. I think it cost like $12 bucks and you got to go up in the elevator to the observation deck and check out the city from above, it was actually really neat. There were two levels to the deck, an inside informational area, and an outside full on windy experiencing area. I think we checked things out for about 20 minutes and then went back down. Part of your admission cost also included a 4-D movie about San Antonio after the deck, though the 3-D glasses part was broken so it was 3-D. Basically what made it 4-D was it was like a regular 3-D movie (with glasses and all), but they also had moving seats and water that sprayed on you, and fog in the theater to add to the experience – think like the Disney Muppet 4-D movie at MGM if you have ever been there before. It was mostly interesting, but that's about all.
After the Tower of the America's experience it was time for food. We wanted true Texas BBQ so that is what the hunt was for. Oh yeah, literally days before the trip Erik bought an iPhone, dude, that thing was super-fly and a total helper in this type of scenario. For example, we just typed in BBQ in relationship to our location and it pulled up spots for us and directions – the one we chose was called the County Line BBQ and it was ri-dic-u-lous. We all grabbed a local brew and some local BBQ: Erik got the BBQ sampler, a plate full of like six different kinds of meat, Robert got ribs and corn on the cob, and I got a brisket sandwich with fries. We tried everything, and it was all bangin', but my brisket was the bomb. After lunch we walked the River Walk back to the car so we could get back to Austin. That night we had our Dogfish Head beer and cheese tasting which was suppose to start at 8PM, it was already 4PM so we had to go because we wanted some down time before things got started again. I'm glad we went to San Antonio, it was a cool city, reminded me in parts of Washington DC.
This time, because of traffic and maybe an accident, it took us almost two hours and a half to get back to Austin, this totally messed with our timing. Plus, I had noticed that the sign at the theater yesterday said the event started at 7PM. So on our way back we called to confirm if it was 7 or 8, and of course it was 7PM. So we got back to the hotel about 6:30, freshened up quickly, and walked over to the theater to catch the 7PM beginning of the tasting. When we got to the theater they brought out our first beer which was kind of a warmer-upper beer, an 8oz of 60 Minute IPA, and told us to hang-out and relax because things weren't going to get started until 8PM – wha, wha, what!? Damn, we lost some time there. Regardless for the beer and cheese pairing that night the idea was that they were going to show old school beer commercials from the 60's and 70's while we enjoyed 12 beers and 8 cheese while Sam from Dogfish Head and another gentleman representing the cheeses talked about the pairings. Let me quickly say that the Alamo Draft House is a cool movie theater. The basic concept is imagine a movie theater with every other row of seats taken out and a low bar replacing the seats. The theater has waitresses and a full menu, plus all the normal movie theater junk food, plus plus they serve beer! I thought it was a great idea. We got to try a ton of good beers and a ton of good cheeses. Basically they had it matched up as a flight of three beers to two cheese and we voted which beers we thought went best with which cheese, and in between each flight is when they would talk. I must say Sam is a natural at entertaining a crowd, truly everyone was waiting to hear what he was going to to say next. A few of the beers I can remember off the top of my head were vintage (aged 2 to 5 years) versions of D'Extra, Fort, and 120 Minute IPA – it was a fun delicious night.
After the beer and cheese night we had talked about getting into something else. We had arrived at the theater at about 7PM by the time it was finished it was almost midnight, so like five hours long, we weren't too buzzed and feeling twitchy. Erik and Robert had talked to Sam and Claus from DFH while on smoke and pee breaks and there was talk of going out with them, but when the night was over they were done. We tried to go back to Hooters since it was close and they had tater-tot-nachos (sounds so good!), but they closed at 12AM. So we asked someone out front where we could go to buy beer and we were informed everywhere stopped selling beer to-go (even the gas stations) at 12AM (though they start selling beer at 6AM!?), but that there was a near by bar called Pluckers that they suggested, so Pluckers it was.
Pluckers was like a cross between a busy TGI Fridays and a local college bar, kind of a weird vibe, but it worked, plus we were the only ones sitting at the bar so that made our lives easier. We had two bartenders that we were bull shitting with and they were pretty funny adding some local flavor. I'm pretty sure we video taped most of the time there so there should be some funny stuff coming out of it, let alone the one-liners we're still quoting ("I was on acid, and I still saw it" – Duece). We also were introduced to one of the most awful shots I have ever tried, Rumple Mints and Dr. Pepper – like poopy-breath blown with liquid-fire-ass freshness, ugh. Pluckers was weird, but Pluckers was fun. After the bar we basically rolled back to the hotel and called it a night.
(Originally I was going to do the whole trip as one post, now I think I am going to break out each day separately.)